The cafeteria staff at Greensville Elementary School start each morning by serving breakfast to over 200 students arriving for summer school instruction. After kids filter through the line and head to their classrooms, the cafeteria team cleans-up and breaks at 9:30 a.m. to share a meal together. Each day of summer meals service, a member of the cafeteria team brings in a special home-cooked meal to share among one another. Shortly after, the cafeteria crew quickly cleans up after themselves and prepares for summer lunch service. 
"The teamwork I am seeing among my colleagues this year is amazing! This pandemic has actually strengthened the communication skills, work ethic, and camaraderie within our department. I applaud each of our staff members for the fantastic job that they have done and continue to do."– MaRendia Garner, School Nutrition Director
It is this very spirit of teamwork and community that has propelled the entire nutrition department forward to adapt to the challenges brought on by the pandemic. In spring and summer 2020, the school division was forced to shut down as the result of a high number of COVID-19 cases within the community. The resilient school nutrition team sprang into action, partnering with Pepsi Co to distribute meal kits to kids across the county. With the help of the local YMCA, seven staff members took on the important responsibility of delivering meals to nine sites to ensure families had access to meals during the difficult time.
This summer, the school nutrition team is thrilled to be back to more normal operations, serving kids and summer school students out of cafeterias and apartment complex sites. Garner applied for nearly every Summer Food Service Program (SFSP) waivers offered by USDA that provide flexibilities this year. 
"These waivers allowed us to provide students with multiple days' worth of meals at one time, allowed students to eat meals in a non-congregate setting (at home), and allowed us to have some flexibility as to what time the meals are served. The waivers lifted restrictions that would have made it nearly impossible to feed our students during this time." – MaRendia Garner
In a rural community like Greensville, these waivers enable kids and students to more easily access the nutrition they need to carry them into the following school year. In some instances, parents are able to come pick-up multiple days' worth of meals for their kids on their way home from work.  
In addition to utilizing waivers, the nutrition team sought out grant funding to help adapt to changing meal distribution plans. From home delivery, to bus stop drop offs, to meals in the classrooms, the team needed equipment and packaging supplies that would ensure students safely received nutritious meals. A $33,000 grant from No Kid Hungry helped provide the department with necessary equipment like sealing machines, new refrigeration units, and cold/hot carriers.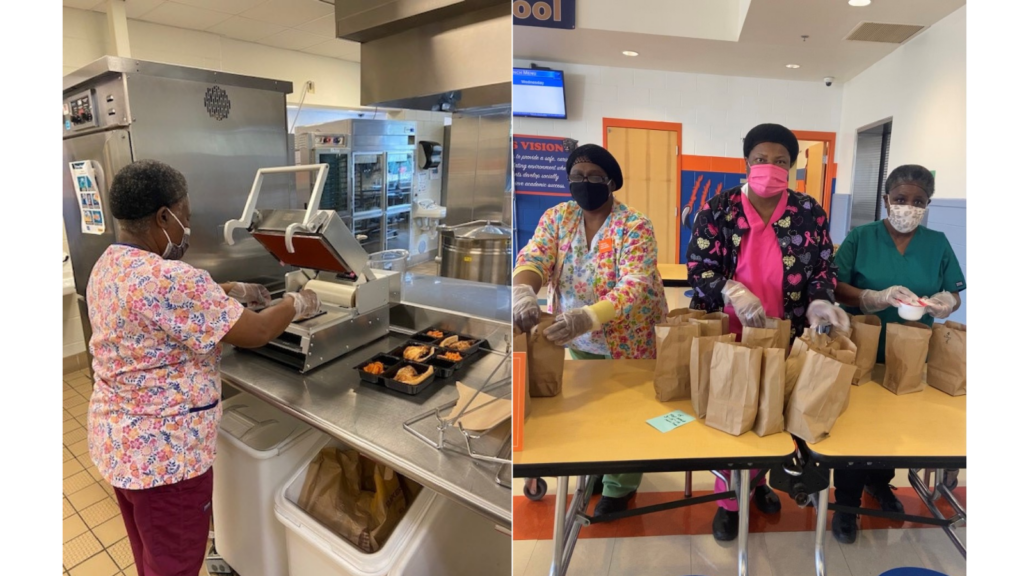 As the team wraps up their summer meals program, they're already looking forward to the 2021-2022 school year. In the wake of the challenges faced these past 16 months, Garner is excited to try new menu options like Mashed Potato Bowl and Chicken Philly Subs. They're also ready to see kids in-person and continue building relationships with each and every student. 
"The thing we really miss is getting to see the kids! Most of these ladies know all the kids in the school by name and their grade. I think the meals and the cafeteria give them a sense of normalcy that they need." – Rhena King, Greensville Elementary Cafeteria Manager
Garner is encouraged that more families and school staff see the importance of school nutrition within the broader education community. In May, the Superintendent and school division helped celebrate School Lunch Hero Day with an award to the department for all their hard work throughout the past year. 
Garner looks forward to continue collaborating with school staff and departments to ensure students have equitable access to nutritious meals.